Inside the Far-Right Podcast Ecosystem Building a Network of Hate
---
---
Examining the origin and growth of the far-right podcast ecosystem using this technology to create and expand their networks of hate.
---
By Megan Squire and Hannah Gais
Building the Network
Overview
In August 2014, a band of four then-pseudonymous contributors to the white nationalist blog The Right Stuff (TRS) gathered for what the site's founder would deem an "experiment": The onetime racist blog founded by Mike "Enoch" Peinovich had decided to pivot to audio. Over the course of the next hour, the four men lambasted immigrants, libertarian women, and ethnic and racial minorities.
TRS dubbed this hour-or-so roundtable, which featured racist banter and commentary on the news, "The Daily Shoah." The name was an antisemitic riff on the popular news and comedy show "The Daily Show," though "The Daily Shoah's" co-hosts saw themselves as following more in the footsteps of the "edgy shock comedy" a la "The Howard Stern Show" or "Opie and Anthony" than Comedy Central's popular satirical news program. (Later, hosts leaned on this comparison in an effort to pass off their descriptions of, say, torturing Black children with large-gauge IV catheters as detached, irony-drenched humor.) In the end, Peinovich's self-described "experiment" proved to be a success, and as the listenership of "The Daily Shoah" grew, so did the podcast offerings on TRS's website. The network advocated for white supremacist ideals in a way that was digestible and appealing to a generation of budding extremists who had grown up either with or alongside the internet.
Today, "The Daily Shoah" is just one among dozens of noteworthy podcasts produced by far-right extremists. Yet, even as the medium has expanded and become more varied within recent years among the far right, mirroring its own growing popularity in mainstream society, the role of podcasts in the world of far-right extremism has been largely understudied.
This four-part report examines the origin and growth of the far-right podcast ecosystem, exposing the individuals and groups that used this technology to create and expand their networks of hate. To show how far-right extremists used podcasts for networking, to build their individual brands, and to spread propaganda nationally and internationally, the Southern Poverty Law Center (SPLC) analyzed thousands of data points from 15 years of podcast recordings. This research reveals how such extremists as Richard B. Spencer leveraged podcasts to popularize the "alt-right" movement as well as how podcasts provided on-the-ground organizers a platform for planning the violence and mayhem of the deadly 2017 "Unite the Right" rally. Furthermore, this analysis demonstrates how extremists used podcasts to cultivate their own financially lucrative video and livestreaming landscape, which is now dominated by such sites as YouTube, Twitch and DLive.
The Loudest Voices in Hate
Far-right extremists have relied on audio content to promote their message of hate to audiences for decades. Still, podcasts had, and have continued to have, a unique appeal. Shows cost very little to produce and distribute – a host needs only audio-editing software and a microphone. There are no stringent federal regulations on podcasts, unlike broadcast radio, making the barrier to entry much lower. Finally, dozens of platforms and mobile apps ("podcatchers") distribute podcasts at no cost to listeners, including those made by Google, Apple, Spotify, Stitcher, Libsyn, Soundcloud and Spreaker.
Keeping track of the networks of podcast hosts and guests presents unique challenges to researchers. Participants, including both hosts and guests, often use aliases and provide little biographical information. They may frequently change their personal and content-related "brands," and their recordings disappear and reappear across a web of podcast syndication platforms, often because of deplatforming. (Deplatforming refers to the act of tech companies stopping a person or group, typically those who give voice to an extreme ideology, from using their websites.) Changes in the availability of an audio archive may result from infighting as well.
To document the expansion of the far-right podcast ecosystem, the Southern Poverty Law Center focused on 18 different podcasts between the years of 2005 and 2020. From there, the SPLC was able to focus in on 882 cast members who appeared on 4,046 different podcast episodes. The associations between cast members of these 18 different shows reveal the interconnectivity of the movement.
The most well-connected individuals are at the center of the diagram. This space is dominated by cast members of shows on The Right Stuff network, including "The Daily Shoah," as well as other long running podcasts, such as "Fash the Nation" and "Paranormies Present."
The network can also be animated to demonstrate its growth over time.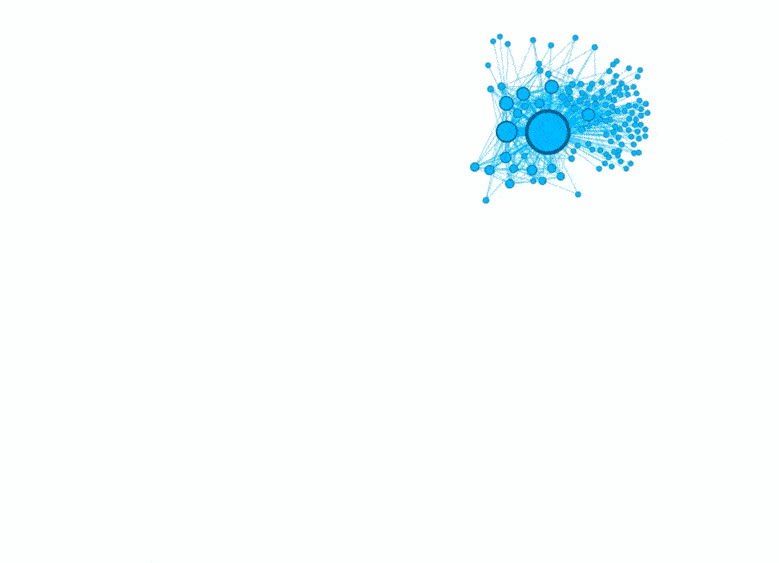 The following table lists the shows and networks in the collection, how many episodes were able to be found as of March 31, 2020, and the approximate date of the first broadcast in the collection. The shows are grouped by network (The Right Stuff, Identity Dixie, or other), then by date of first broadcast. The SPLC chose six podcasts from one network (The Right Stuff), three from another network (Identity Dixie) and nine independent shows. Of the independent shows, SPLC included one international show ("Nordic Frontier"), one show marketed to women ("Helicopter Mom"), one long-running show that has digital downloads but also airs on FM radio ("The Political Cesspool"), one show that focuses on esoteric religion ("Mysterium Fasces") and one show that uses a video format and is focused on debates between far-right influencers ("Killstream").
Of the 882 people in the data set, the vast majority appeared on only one or two different podcast shows. The SPLC's analysis reveals a smaller subset of prominent extremists who were active on multiple shows and appeared on numerous episodes throughout the network. In order to determine which figures were the most active throughout this podcasting network, the SPLC limited its analysis to those figures who appeared on five or more different shows in the dataset. Using this methodology, the SPLC determined that there were 22 far-right activists at the heart of the podcasting network. Most of them are hosts or co-hosts of their own podcasts, including shows that do not appear in this dataset. However, all have been crucial figures in the flurry of far-right extremist activity throughout the Trump years, whether as propagandists or organizers.
In fact, the only frequent guests who never hosted their own podcasts were Jason Kessler and Elliot Kline (as "Eli Mosley"). Kessler and Kline were among the organizers of the deadly "Unite the Right" rally in Charlottesville, Virginia, in August 2017. Kessler was also a former member of the Proud Boys, and Kline was the onetime leader of Identity Evropa (which later rebranded itself as American Identity Movement after Kline's departure), a white nationalist group known for its campus recruitment efforts. One of the episodes of "The Daily Shoah" featuring Kline aired on Aug. 13, the day after James Alex Fields Jr. murdered Heather Heyer, an antiracist protester, in Charlottesville. The episode was named "GVF-1111" after the license plate of Fields' car. "The Rebel Yell" podcast featured Kessler six times, including two shows promoting the event and one show with both Kessler and Kline discussing the aftermath of the event. While Kessler and Kline served as event and group organizers rather than as propagandists, their presence in this dataset as frequent guests is a testament to the close relationship between podcasting and on-the-ground actions.
Show Descriptions
The SPLC chose to examine 18 shows that are varied in presentation and style. Despite these surface-level differences, all are modeled after "hot talk" or "shock jock" talk shows. These feature a rotating cast of hosts and guests, as opposed to the single-speaker format typified by other right-wing media, such as conservative radio broadcaster the late Rush Limbaugh's show.
In addition, owing to the small size and insular nature of the community of far-right extremists, hosts often appear on each other's podcasts. Popular guests are occasionally requested to return as guests or even as temporary hosts. The podcasts also sometimes affiliated with cross-promotional "networks" that promote related shows through shared discussion boards, centralized funding mechanisms and the like.
The Right Stuff Network
"The Daily Shoah" (TDS) began in 2014 with two hosts: former tech sector worker Mike Peinovich, who uses the alias "Mike Enoch," and Jesse Dunstan, who goes by "Sven," "Seventh Son" and several other aliases. TDS is the main flagship show for The Right Stuff network.
Another one of TRS's most well-known shows, "Fash the Nation," began in 2015 as a racist and antisemitic answer to the mainstream Sunday morning television talk shows, such as "Face the Nation." "Fash the Nation's" original hosts used the aliases "Jazzhands McFeels" and "Marcus Halberstram," but it has changed hands at times over the years, though new hosts have also tended to come in pairs. The content of the show includes commentary on current news events and guest appearances. The show is part of The Right Stuff's network, although it also maintains its own website.
"The Paranormies Present" joined TRS's network in mid-2016. It focuses on racist conspiracies and paranormal activity. The antisemitic conspiracy theories that Jewish people control the world and that the United States is operating under a so-called Zionist Occupied Government (ZOG) are some of the many racist and antisemitic falsehoods advanced in the show by its host John Ramondetta, who goes by the moniker "Johnny Monoxide."
"Exodus Americanus" likely began in early 2016, but the first episode SPLC could locate for this dataset is numbered 36 and was aired in October 2016. The hosts of the show use the aliases "Roscoe Jones" and "Walrus Aurelius," and there have been several co-hosts through the years. "Exodus Americanus" refers to itself as "The Great American Houseboat." Like "Fash the Nation," "Exodus Americanus" maintains its own website where it hosts recordings of other shows.
"Third Rail" premiered in spring of 2017 with an episode titled "Flight 1488." The number 14 refers to the racist creed called "The 14 Words," and 88 is an alphanumeric reference to "Heil Hitler." Like many of the podcasts on this list, "Third Rail" has had a rotating cast over the years, but its core hosts are former journalist Norman "Trey" Garrison as "Spectre" and "Borzoi Boskovic."
Finally, there is "Strike and Mike," which features Joseph Jordan as "Eric Striker" and Mike Peinovich. The show introduced itself as "the biggest brained content on the alt-right" at its launch in December 2017. Regardless of billing, the show is blatantly racist, misogynist, and antisemitic, with episode titles such as "Jazzy Jews!", "Theory of Semitivity" and "Kaplan America, C-ville Whore," referring to Roberta Kaplan, lead plaintiff's attorney in the lawsuit against the alleged conspirators who planned the "Unite the Right" rally.
Shows on the TRS network share a common website where listeners can listen to old episodes, comment on the episodes, join a discussion forum and pay for premium content through monthly donations.
Identity Dixie
The Identity Dixie network features mostly neo-Confederate programming. It began as an offshoot of a TRS forum group called "TRS Confederates," and is smaller and newer than TRS itself. Identity Dixie's flagship show is "Rebel Yell," hosted by Bret Lynn (under the alias "Musonius Rufus"). The show also features a rotating cast of co-hosts including Eric Field (under the alias "Mencken's Ghost"), "Ryan McMahon" and Russell Barry (under the alias "Fulwar Skipwith"). "Rebel Yell" premiered in January 2016.
"Helicopter Mom" was a short-lived podcast that ran on the Identity Dixie network in 2017 and 2018. It claimed to focus on "women's issues." Most episodes of "Helicopter Mom" were hosted by a woman using the alias "Julia Evola," a play on the Italian fascist theorist and writer Julius Evola, along with her co-hosts "Rachel," "Evelyn" and "Kelly U Gah" (a play on the fascist interpretation of the Hindu "Kaliyuga" or "Dark Age"). The show promoted a "trad wife" lifestyle. Each episode included a recipe segment, a Bible segment and advice on child-rearing and homesteading. While "Helicopter Mom" is a term typically applied to overprotective mothers, here it appears to refer to Chilean dictator Augusto Pinochet's infamous death flights, in which dissenters were dropped to their deaths from helicopters. The use of the term helicopter rides by the far right, including groups such as the Proud Boys, has become synonymous with using violence against people who are politically liberal or left-leaning. "Helicopter Mom" was discontinued in December 2018.
"Good Morning Weimerica" is another show that airs sporadically on the Identity Dixie network. However, its hosts Tyler Thompson and Patrick Bishop are known for taking frequent, long hiatuses. As a result, they have produced only 54 episodes since the 2017 launch.
Shows affiliated with the Identity Dixie network share a common website featuring download links and links to some social media channels, but they do not appear to share a funding mechanism or have any publicly available discussion boards.
Independent Shows
The remaining shows in the data set are either independent or part of much smaller networks.
White nationalist James Edwards launched "The Political Cesspool" in 2004, and it is the longest-running show in this dataset. Though Edwards is the show's main host, it has had a large contingent of cohosts and regular guests since its inception. "The Political Cesspool" is unique in that it airs on a few terrestrial radio stations in addition to being broadcast on the internet, and the hosts occasionally take live telephone calls from listeners. Still, the show's format is like others in that it features racist and antisemitic commentary by hosts and guests as well as recurring segments.
"Mysterium Fasces" was a short-lived podcast that ran from 2016 to 2017. Billed as a "Christian Traditionalist podcast," its pseudonymous host "Florian Geyer" advocated a blend of esoteric and orthodox religions with fascism. The final regular episode aired in June 2018, and one last episode was released in August 2019.
"Nordic Frontier" is the English-language outreach podcast of the Swedish neo-Nazi political party the Nordic Resistance Movement, which has produced the show since January 2017. (The Finnish government banned Nordic Resistance Movement in 2017, a few weeks after members of the group's branch in Sweden were sentenced to prison for three bombings in Göteborg, including one targeting a refugee center. Its members have perpetrated a variety of attacks on activists and others in the countries where NRM is active.) "Nordic Frontier" is the only international podcast in this report. It has three regular hosts: Andreas Johansson, Johan Svensson and Michael Hovila, who each represent Sweden, Norway and Finland.
"White Rabbit Radio" has gone through several iterations as a show. It began on ham radio, then was sporadically distributed as sound files, and finally in 2017 it took shape as a regularly occurring podcast initially called "This Week in White Genocide." That title was dropped after nine episodes, and the show is now called "White Rabbit Radio." Tim Murdock, the show's host who uses the alias "Horus the Avenger," has claimed the title is a nod to Lewis Carroll's "Alice's Adventures in Wonderland." Murdock has also stated that he believes the white rabbit represents peoples of European descent and their genetic perfection. There is also an associated show called "End-Game Exotica" that began in 2011 and requires a paid subscription. In February 2019, Murdock began to distribute "White Rabbit Radio" as a livestreamed video series. These video episodes are archived on Bitchute, a YouTube clone that has become a haven for white supremacist content. Murdock has also streamed the show on video-streaming platforms such as DLive.
"GoyTalk" was started as a weekly video podcast streamed on YouTube by a host using the alias "Dino Spumoni," with co-hosts "Paddocksperg," "Peezy" and "Arnel Schwarzen***a" (asterisks added). The show ran from May 2018 through December 2019. Many episodes featured special guests. Titles like "ZOG bless America," "Hoes Mad," and a seven-part "Blacked History Month" series indicate the show's antisemitic, misogynist and racist content.
"Killstream," hosted by Ethan Ralph and a long list of co-hosts and special guests, bills itself as a "free speech" comedy show. The show broadcasts up to five nights per week. The show formerly streamed on Youtube, but was banned after news media revealed that the show was profiting from racist content by way of Youtube's "SuperChats" feature. The show then moved to video livestreaming service DLive, where Ralph continued to earn considerable donations from fans until he was temporarily banned following the insurrection in the U.S. Capitol on Jan. 6.
"The Cocktail Hour" is an audio-only podcast hosted by pseudonymous "John Q. Publius" since fall 2018. The show has no co-hosts as of this writing but does feature appearances by various new and returning guests who offer commentary on episodes with titles such as "The Delusions of Multi-Culturalism" and "Infighting and Accelerationism." Accelerationism refers to a strand of white supremacist ideology that promotes terrorism as a means for ushering in the collapse of modern society and replacing it with a white ethnostate. "The Cocktail Hour" is currently available on numerous podcast syndication services.
"McSpencer Group" is a streaming video series hosted by Richard B. Spencer of the National Policy Institute. The show originally aired on YouTube beginning in March 2019, but it has since been forced off the platform. Spencer has continued to stream on lbry.tv and Entropy, two "alt-tech" streaming services.
Finally, "Full Haus" advertises itself as a show "for white fathers, aspiring ones, and the whole biofam." Its main host is Matthew Q. Gebert, using the alias "Coach Finstock," who SPLC's publishing arm, Hatewatch, revealed to be a U.S. State Department employee. Co-hosts include Michael McKevitt, using the alias "Potato Smasher," and a man going by "Sam."
The Importance of Podcasts in the Extreme Right
The extreme right has depended on its own alternative media networks to promote events, propagate new ideas and network both within and across ideologies. Even though far-right extremist leaders welcomed some of the mainstream press' attention to their movement in the early Trump era, insofar as it drew the movement into the limelight, these networks have persisted.
"Having a media platform that is independent of the mainstream is important," "Jazzhand McFeels," the pseudonymous host of the TRS-hosted "Fash the Nation" podcast, said on a September 2016 episode of the white nationalist show Radio 3Fourteen, hosted by Red Ice TV.
Podcasts have been exploited by far-right extremists in three distinct ways. They represent an important vehicle for radicalization to extremism and recruitment into extremist groups. Podcasts are also a bridge from online to on-the-ground organizing, specifically in the context of the deadly 2017 "Unite the Right" rally in Charlottesville, Virginia. Finally, extremists use podcasts to build contacts abroad and introduce their movements to leaders in other countries.
Podcasts as a Recruitment Tool
In trying to understand the role of the internet and social media in radicalization to extremism, journalists and academics have explored the existence of a "rabbit hole" effect – particularly in consuming video content on YouTube. Here, viewers who start out watching mainstream content are recommended increasingly extreme content. Academic Becca Lewis suggested in her landmark study on YouTube that its recommendation algorithm worked hand-in-glove with what she dubbed an "alternative influence network." While members of this network may have adhered to a range of political ideologies, they nevertheless promoted each other's work by making guest appearances on one another's shows. These appearances, Lewis explained, helped "influencers with mainstream audiences lend their credibility to openly white nationalist and other extremist content creators."
Because the podcasters in SPLC's report have been deeply embedded in the white power movement for years, many of their listeners have already gone down this "rabbit hole" of radicalization. However, forum posts viewed and analyzed by the SPLC referencing some of the podcasts in this report within the context of users' own self-described radicalization narratives reveal that these shows help guide extremists as they move throughout the movement.
The SPLC examined radicalization narratives from two online communities. The first, Iron March, was a staunchly neo-Nazi forum associated with terroristic white power groups such as the Atomwaffen Division that was active from 2011 to late 2017. Its moderators and members prided themselves on the rigor of their fascist beliefs. As Hatewatch reported in 2019, the rigid, fascistic worldview of Iron March, epitomized by its pseudonymous cofounder, "Alexander Slavros," has helped spawn a series of murders and terror attacks, as well as a slew of plots and attempted attacks. The second, TRS's 504um, now known as Bang, is an online white nationalist community populated largely by fans and paying subscribers of the TRS podcasting network.
Both communities constituted two distinct poles within the white power movement, with Iron March representing its violent, terroristic ambitions and 504um typifying its efforts to build a white ethnostate through the existing political system. For a time, some users retained membership at both sites, while members of each site's core leadership engaged in dialogue on their respective podcasts and occasionally republished one another's work. However, after members of 8chan, a far-right image board popular with white supremacists and far-right conspiracy theorists, outed TRS leader Peinovich as married to a Jewish woman, the two communities fractured. "Slavros" and those groups, such as the Atomwaffen Division, that carried on the forum's legacy of violence long after it disappeared from the web in fall 2017, expressed contempt for TRS and other factions of the alt-right. For "Slavros," the alt-right represented "appeasement" to the current political order, as he argued in the September 2017 text "Zero Tolerance."
On TRS, the radicalization narratives examined in this report were derived from a series of threads – previously detailed in a 2018 SPLC publication – on 504um in March 2018, where 74 users explained what drew them to the white power movement. While TRS users' radicalization narratives hinted at two common pathways to a white nationalist worldview – either through racist and misogynistic trolling culture on such sites as 4chan, or through exposure to more highbrow, pseudo-academic racism – 63% of users named podcasters and livestreamers as their most important influences. Users also explained that podcasts, including ones in the dataset behind this report, were their mechanism of choice for recruiting and radicalizing others – a process extremists often refer to as "redpilling."
"I have introduced some friends to ["The Political Cesspool"] … because it has great discussions and topics that are pro White and Pro Christian that many rightwingers can accept," the user "handsomejack" wrote on 504um on March 28, 2018. Later in the same thread, a user with the handle "DinoCon" recommended Red Ice for women entering the movement, in that they offered "LOTS of content explicitly for ladies." The two Red Ice hosts were also frequent guests on the other podcasts in this study, appearing on 19 different episodes of "The Political Cesspool," "White Rabbit Radio," "Killstream" and "Fash the Nation."
For some users, TRS podcasts provided a source of entertainment that opened them up to a new worldview of hate. For others, the TRS network of podcasts was just a waystation on the path to more radical content, such as that found on Iron March. Some Iron March users claimed to have quit TRS after becoming frustrated with Peinovich and others.
"I found TRS's arguments against so called 'purity spiraling' to be pathetic," user "Helios" wrote in an Iron March introductory post, dated Feb. 19, 2017. In it, he referenced infighting between the two communities, spurred in part by 8chan's outing of Peinovich as married to a Jewish woman. In this context, the term "purity spiraling" appears to refer to the user's frustrations with Peinovich's critiques of Iron March, as well as TRS forum moderators' efforts to weed out users on their platform who were also associated with "Slavros'" forum. The user continued, noting: "I had also come to find the IM contributors to TRS to be the most interesting, so when they were banned, I began to drift away from TRS."
One stepping stone from the world of more politically minded white nationalism to Iron March's hardline fascist ethos, according to Iron March users, was "Mysterium Fasces," a podcast hosted by the pseudonymous "Florian Geyer." Throughout late 2016 and well into 2017, several users referenced "Mysterium Fasces" in their introductory posts on Iron March as a source of inspiration for their worldview. The show had its own overlap with TRS as well, in that several episodes had featured TRS affiliate "Strike and Mike" co-host Joseph Jordan, under the name "Eric Striker."
As early as December 2016, a few months after the first episode of "Mysterium Fasces" debuted, Iron March user "Eristopolese" credited the show with guiding them to the forum.
"I'd like to thank Florian Geyer for his podcast Mysterium Fasces which is the reason why I'm a full-blown fascist," "Eristopolese" wrote on Dec. 14, 2016.
Users described "Mysterium Fasces" as "eye-opening" and "instrumental" to their journey. They claimed the show revealed a different side of the fascist movement, exposing them to religion or more rigorous fascist beliefs. "I was red-pilled mainly through Twitter and the Alt-Right as a whole, and soon started going deeper, e.g., … listening to the Mysterium Fasces podcast," "FashySpaniard" wrote on April 4, 2017. Another user, under the name "John Q. Public," wrote on May 10, 2017, that "Mysterium Fasces" – which had long used Eastern Christian chanting as its opening theme – had inspired them to attend church.
Podcasts and On-the-Ground Organizing
Extremists also used the podcasts referenced in this report to build in-person communities and mobilize their base to attend events. Podcaster Robert Warren Ray, otherwise known as "Azzmador," assisted Daily Stormer editor Andrew Anglin in launching a nationwide series of meetup groups, known as Stormer Book Clubs. (At times, Ray has described himself as the Daily Stormer's "man on the ground.") The TRS network had its own version of Stormer Book Clubs, known as "pool parties," which provided an outlet for fans of the network to meet up offline. For planning mass events, these podcast networks and the communities played a formidable role.
Nowhere is this more evident than the case of the deadly August 2017 "Unite the Right" rally in Charlottesville, Virginia. Here, podcasting networks were not only crucial in terms of promoting organizing efforts, garnering support from around the movement and attracting attendees, they also provided platforms for organizers to shape the narrative around "Unite the Right" in a way that was favorable to the movement after the fact. Indeed, the fact that nearly half of the 22 top cast members identified by SPLC (see Table 1) were at one point named as defendants in Sines v. Kessler, a civil lawsuit against "Unite the Right" organizers filed in October 2017, is testament to the intimate relationship between podcasting as a medium and the event itself.
SPLC's analysis of podcast metadata shows that "Rebel Yell," "The Political Cesspool," "The Daily Shoah," "The Third Rail" and "Exodus Americanus" all promoted "Unite the Right" or provided opportunities for organizers to spin the narrative after the conclusion of the violent event. "The Political Cesspool," for instance, hosted seven Charlottesville-themed shows in the months before and after "Unite the Right."
"The Daily Shoah" provided similar before-and-after coverage as well, although one of its hosts, Peinovich, has been dropped from a civil lawsuit filed in late 2017 targeting organizers of the event. In an episode of the show – originally aired on Aug. 8, 2017, four days before "Unite the Right" – Peinovich discussed his interactions with law enforcement and encouraged listeners who were attending the rally to appear "peaceful." Former Identity Evropa head Elliot Kline – one of the defendants in the ongoing civil suit against "Unite the Right" organizers – joined the show as a guest, in order to share his own insights in the run-up to the event.
In the immediate aftermath of "Unite the Right," Peinovich and his cohosts spoke with a variety of organizers and key attendees. Richard Spencer, another event organizer, and Kline guest-starred. Former State Department official Matthew Q. Gebert, who was known in white nationalist circles under his moniker "Coach Finstock," joined as well, where he recalled his experience of leading the Northern Virginia "pool party" to "Unite the Right." The episode focused largely on shaping the narrative after the event, with Peinovich claiming that the "shitty set up" that brought "Unite the Right" attendees into contact with antifascists was intentional. He promoted a conspiracy theory that soon became popular among some "Unite the Right" supporters as well, which claimed that the police had acted in "collaboration with counter protesters." As for James Fields Jr., who was seen marching with Vanguard America during "Unite the Right" and who would later be convicted of murdering antifascist activist Heather Heyer in a car-ramming attack, Peinovich said, "He should get a medal."
Other shows sought to rework the narrative around "Unite the Right" in a hapless effort to relieve the movement of blame for Heyer's death. On Aug. 13, "Fash the Nation" aired an episode that promised to get at "the real story of what happened in Charlottesville." Among the guests were "Unite the Right" lead organizer Jason Kessler, who remained unrepentant about his role in the fiasco and went on to plan a sparsely attended "Unite the Right 2" anniversary event in Washington, D.C., the following year.
One September 2017 episode of "Mysterium Fasces" – airing just one month after "Unite the Right" – featured three prominent propagandists and organizers speaking candidly about their participation at the event. Within the first five minutes of the episode, Traditionalist Worker Party's Matthew Parrott revealed to co-host Gabriel Sohier Chaput ("Zeiger") and TRS's Joseph Jordan ("Eric Striker") that the narrative put forth by organizers and participants – that the event was about defending the city's Confederate statues from being taken down – had crumbled long before "Unite the Right" took place. Instead, Parrott explained, "Unite the Right" was a "street brawl that we ended up winning." Jordan then took Parrott's point one step further, adding that the purpose of the event was to "dominate the public square" and "hold territory."
In all these cases, the podcasts served a dual purpose. First, they provided a platform for "Unite the Right" organizers to address members of the white power movement directly. They used this audio platform to coordinate with their supporters, both before and after the rally. Second, in the aftermath of "Unite the Right," hosts and guests used the freedom granted to them by these independent platforms to establish their own narrative around what happened in Charlottesville and respond to criticisms from politicians, law enforcement, the media and the broader public.
Podcasts as a Means of Building Contacts Internationally
Finally, podcasts provide a low-cost, low-risk method for exchanging information and networking internationally. Among the podcasts referenced in this report, "Nordic Frontier" is notable for its international case, including several U.S.-based guests such as Matthew Heimbach and Tony Hovater of the now defunct Traditionalist Worker Party. Recently, Jordan and Warren Balogh ("Ahab") from The Right Stuff network and the National Justice Party have appeared on the show as well.
Other individuals who have appeared on Nordic Frontier but whose groups or shows were not featured in this data set include Jason Köhne of the YouTube show "No White Guilt," Christopher Cantwell from "Radical Agenda," Patriot Front leader Thomas Rousseau, and neo-Nazi and former Proud Boy Augustus Sol Invictus.
Likewise, the hosts of "Nordic Frontier" have appeared on U.S.-based podcasts to discuss their work. For instance, one of the show's hosts, Andreas Johansson, joined former State Department official Matthew Q. Gebert's podcast "Full Haus" in June to talk "white pride worldwide."
Appearances on international podcasts help propagandists, event organizers and movement leaders exchange information about strategies and tactics. Thomas Ryan Rousseau, the Texas-based leader of the white nationalist group Patriot Front, appeared on "Nordic Frontier" in 2019 to discuss his group's approach to holding real-world events in the wake of "Unite the Right" in the United States. (Rousseau had attended "Unite the Right" with the group Vanguard America, of which he was a prominent member. Vanguard America disintegrated in the wake of the event, in part due to its association with Fields.) He and the "Nordic Frontier" host compared "Unite the Right" to a September 2017 Nordic Resistance Movement event in Gothenburg, Sweden, and lamented how difficult it had become to hold demonstrations in the face of strong antifascist turnout.
Rousseau then introduced Patriot Front's strategy for holding "flash" or unplanned, surprise demonstrations rather than events with permits. Johanssen, the "Nordic Frontier" host, complimented Rousseau's approach: "I think it's really nice, this international cooperation. Your organization seems very stable, you've got good ideas, you've got purpose. You've got good activism. You've got a lot of people that are willing to sacrifice time and energy for the cause."
Johanssen continued, offering a pointed critique of other U.S.-based white supremacist groups, "There was some sort of alt-right manifesto, some 25-point program, but I mean, you know, it was just loosely … there was no organization, there was no activism. It was just podcasts. [laughs] That's what the alt-right was. Just f***ing podcasts and a web site." Rousseau agreed, saying, "Absolutely."
Another U.S.-based neo-Nazi group that earned Nordic Frontier approval was the Traditionalist Worker Party. TWP co-founder Matthew Heimbach appeared on "Nordic Frontier" less than two weeks after he helped organize "Unite the Right." He discussed the training and weaponry TWP members and others used to go after antifascists while framing the event as an overall success for the movement.
"We were able to push them back, push them back, push them back up the streets," Heimbach said on the podcast. Later, he added: "Whenever they would charge us, we would literally just beat them back."
Heimbach went on to claim that he and TWP members "followed the law" because they "know the state is looking for any excuse to come at [them]." But, he noted, "when you have raving communists coming with baseball bats to try and attack you, we would just defeat them." The "Nordic Frontier" hosts agreed, and the group discussed their negative opinions of law enforcement for the remainder of the segment.
The appeal of audio propaganda to the extreme far right is undeniable. By meticulously cataloging the available data about the audio hate ecosystem, SPLC's research reveals a network of over 800 hosts and guests who collaborated more than 4000 times to record their hopes and plans for creating a white ethnostate, for promoting racist memes, for harassing racial, ethnic and religious minorities, and so on. The creators of these propaganda vehicles may claim to be simply producing copies of edgy "shock jock"-style entertainment, but this research shows that the podcast network is instead crucial to individual extremists' radicalization narratives, their promotion of violent events and their ability to foster international cooperation between hate groups.
As technology continues to change, the podcast network is also evolving, with many of the shows already adding video-based and game-based elements to their programs. And just as far-right extremists transformed the podcast ecosystem from a low-cost way of producing propaganda and into a moneymaking enterprise, so too SPLC has observed the video livestreaming landscape also quickly becoming monetized.
Richard Spencer's Origins in the Podcast Network
Overview
A network of podcasts, including one which featured former President Donald Trump's eldest son as a guest in 2016, fueled the rise of one of the core leaders of the modern white nationalist movement.
Richard Spencer, a prominent white nationalist figurehead during the Trump era, was one of dozens of up-and-coming extremists who leveraged a network of far-right podcasts to mobilize followers and turn his movement into a household name. This movement, known as the so-called "alternative right" or "alt-right" for short, encompassed a loose set of far-right ideologies, groups and individuals under the mantle of white supremacy. While early coverage of the alt-right emphasized its members' and leaders' fluency with internet culture – specifically forums and social media – the role of podcasts as a vehicle for propaganda and leadership development has not yet been examined.
The Southern Poverty Law Center analyzed Spencer's breakthrough into the upper echelons of the white power movement through the lens of a web of 18 different podcasts popular with the extreme right between 2005 and 2020. The SPLC found that Spencer's earliest efforts to market his movement to the broader extreme right were facilitated in large part by "The Political Cesspool" (TPC), a podcast and radio show hosted by longtime white nationalist propagandist James Edwards. Though the show has featured a variety of far-right extremists from the United States and abroad, Edwards has brushed shoulders with members of the more mainstream right, including Donald Trump Jr.
This part examines15 years of podcasting data across 18 different shows produced by far-right extremists. While Spencer is but one of the 882 cast members who appeared on 4,046 different episodes of these shows, he figures prominently in the web of far-right extremist content makers.
Spencer's Role in the White Power Movement
Spencer emerged as one of the most prominent white nationalist figureheads during the flurry of extremist activity around the 2016 election, although his involvement in the white power movement extends well beyond the Trump era.
In 2008, Spencer began promoting the term "alternative right" while an editor at the paleoconservative online publication Taki's Magazine. In December of that year, Taki's published a speech from far-right political theorist Paul Gottfried outlining his vision for a new "independent intellectual Right." Though the speech itself never used the term, it was key to Spencer's nascent movement.
In 2011, Spencer became president of the National Policy Institute, a think tank founded by William H. Regnery II, a mega-donor to various white nationalist outlets. Under Spencer's tutelage, the National Policy Institute, dedicated to ensuring the "biological and cultural continuity" of white Americans, rebranded age-old racial bigotries for a younger generation of extremists. It did so through a variety of media, including blogs, journal articles and podcasts. NPI also held dozens of conferences with other white nationalist figureheads. In the run-up to and aftermath of the 2016 election, these gatherings drew scores of younger attendees, in part because the institute offered discounted admission for those under 30.
Likewise, Spencer was one of a core cadre of white nationalist organizers behind the flurry of far-right rallies in the first half of the Trump era. This included the August 2017 "Unite the Right" rally, which brought hundreds of white supremacists and other far-right extremists to Charlottesville, Virginia. The event devolved into violent skirmishes, culminating in the murder of antiracist activist Heather Heyer by James Alex Fields Jr. A few months later, at Spencer's Oct. 19 appearance at the University of Florida as part of his brief college tour, three of his supporters were arrested on charges of attempted homicide for allegedly firing at protesters.
Today, he is one of over a dozen defendants named as organizers of "Unite the Right" in the Sines v. Kessler civil lawsuit. NPI has remained largely dormant in the years following the fracturing of the alt-right in 2018. Spencer made at least two attempts to launch new podcasts, including "The McSpencer Group" and "Radix Live," named after one of NPI's publications, Radix Journal.
Spencer's Breakthrough on 'The Political Cesspool'
On Oct. 24, 2009, less than a year after beginning to promote the term "alternative right," Spencer made his first appearance on "The Political Cesspool" (TPC), a podcast and radio show hosted by James Edwards. Over the course of Spencer's next two dozen or so appearances on TPC, Edwards used his prominent platform within the broader far-right movement to promote Spencer as a core member of the white nationalist intelligentsia.
Edwards, a board member of the Council of Conservative Citizens and a principal member of the white nationalist American Freedom Party, started TPC in 2004 as a terrestrial radio show, though it has since branched out to internet broadcasting. TPC's mission statement includes white nationalist rhetoric, claiming that it "stands for the Dispossessed Majority" and is "pro-White."
As part of TPC's five-year anniversary special, Spencer appeared alongside Paul Gottfried to discuss "the failure of the conservative movement." Edwards introduced Spencer as the "Managing Editor of TakiMag.com" and an "intellectual heavyweight." Within the first ten minutes of the interview, Spencer began promoting his vision for a new far-right movement.
"We've got to find a new tactic that isn't just about kicking the neoconservatives out of the [conservative] movement. I don't think that's possible or desirable. We've got to find a new right wing," he said during the interview. Spencer added that he had begun to refer to this movement as the "alternative right," "a collection of different groups or individuals who are basically not falling into that lesser-of-two-evils logic" that he claimed was used by some far-right extremists to justify voting for Republican candidates such as the late John McCain.
The discussion was notable in two regards. First, Spencer's efforts to introduce the "alternative right" as a concept to TPC listeners came long before the term had begun to take root among far-right extremists. Spencer's TPC appearance came less than a year after Gottfried presented his vision for a nationalist, populist right-wing in a speech at the H.L. Mencken Club. Spencer published Gottfried's speech on Taki's Magazine's website, under the title "The Decline and Rise of the Alternative Right," in December 2009. The term stuck, and over the course of the next year, Taki's Magazine, under Spencer's editorship, would publish several articles laying the groundwork for this "alternative right."
Second, Spencer's appearance on TPC allowed him to reach a broader constituency within the far right. Edwards, a Tennessee resident, had long tailored the show for a Southern white nationalist and neo-Confederate audience – two audiences that would become crucial partners for Spencer and other organizers during the 2017 "Unite the Right" rally. Throughout the episode, both Edwards and Spencer urged far-right activists to come together, with Edwards emphasizing that their "survival depended on it." Likewise, throughout the segment, Spencer and, later, Gottfried sought to draw listeners to their causes. Spencer, Gottfried and Edwards encouraged listeners to attend the H.L. Mencken Club's second annual meetup.
Spencer's Subsequent Appearances on "The Political Cesspool"
Between 2009 and 2020, Spencer appeared another 29 times on TPC broadcasts. The bibliographical details of each appearance provide a timeline for his development as a white nationalist leader, as well as for the alt-right's rise.
Six months after his appearance in October 2009, he was invited back – this time hawking his new blog, AlternativeRight.com. Edwards re-introduced him to TPC listeners as the "Executive Editor of Alternative Right, a trendy new paleoconservative website that features a wide variety of intellectual writings from some of the greatest minds you'll find today."

In late 2010, TPC nodded to Spencer's past career in more mainstream right-wing media. Spencer, Edwards said, was the "former editor of the American Conservative magazine and is the founder of AlternativeRight.com." (Spencer worked at the American Conservative, a paleoconservative magazine, briefly as an assistant editor after dropping out of his doctoral program at Duke University in 2007.) By 2011, TPC described him as the founder and co-editor of Alternative Right and Executive Director of the National Policy Institute.

In 2012 Spencer added "Executive Director of Washington Summit Publishers" to his resume.

By 2014, he became "President of the National Policy Institute" and "founder and editor of Radix Journal."

After Hungarian police detained Spencer in October 2014 during NPI's disastrous attempt to hold a conference in Budapest, he was described on TPC as an "international thought criminal and free speech martyr."

In 2015, TPC highlighted his educational achievement as "a doctoral student at Duke University before dropping out to pursue a life of thought-crime." By 2018, this had softened to "he was a doctoral student at Duke University before becoming a journalist."
Most of Spencer's 30 appearances on "The Political Cesspool" pre-date his notoriety in the popular press by several years. Through "The Political Cesspool," he was able to use the airtime to establish himself as an intellectual leader within the broader extreme right, while also drawing listeners deeper into the world of far-right activism through attendance at in-person events. Spencer continued to organize, promote and attend white nationalist meetups and conferences, including infamously in 2016 when he catapulted into the public eye after yelling "Hail Trump!" and "Hail victory!" – an English translation of the Nazi chant "Sieg Heil" – during an event in Washington, D.C.
During this time, too, Spencer's appearances on the show coincided with a range of notable guests. Representatives from the Council of Conservative Citizens, a white nationalist group with roots in the efforts to oppose school desegregation in the 1950s, were frequent guests, joining Edwards' show some 58 times between 2005 and 2020. It also featured a variety of racist thinkers who figured into the alt-right's growth during the 2016 election. These included Jared Taylor, editor of the white nationalist publication American Renaissance, who appeared on the show 52 times during this period; Sam Dickson, a former lawyer for the Ku Klux Klan who appeared 36 times; and Kevin MacDonald, a retired university professor and author of several antisemitic tomes. MacDonald appeared 35 times. Many of these figures had, like Spencer, nurtured a deliberately more mainstream image to hide their extremist views.
But Edwards also hosted politicians, from the United States and abroad. In 2012, Rep. Walter B. Jones, a Republican from North Carolina, went on the show to discuss troop withdrawal from Afghanistan. (He later claimed he was unaware of the show's political leanings.) Rep. Nick Griffin, of the far-right British National Party, made multiple appearances on the show, joining Edwards' program five times. Finally, Edwards interviewed Donald Trump Jr. in March 2016 on a sister program, "Liberty Roundtable." There, the two disparaged immigrants, particularly undocumented ones. Trump Jr. later claimed Edwards was "brought into the interview without my knowledge."
Growing the Alt-Right
While Spencer continued to appear on "The Political Cesspool" throughout the 2010s, an array of newer white nationalist podcasts provided him a variety of different platforms from which to promote and grow the alt-right. These shows, many of which were produced by and for a younger generation of white supremacists, tended to appeal to a younger, more digitally savvy, audience.
Spencer became a regular fixture on The Right Stuff podcasting circuit in fall of 2015. On Oct. 13, 2015, Spencer joined "The Daily Shoah" for the first time. The show was recorded in the runup to NPI's annual conference, held around Halloween of that year. It included a brief promotional segment, dubbed the "NPI Conference Haircut Contest," where Spencer judged TRS listeners' undercuts – a type of hairstyle where the sides of the head are shaved or buzzed, and the top is left at a longer length. NPI awarded the winner a free ticket to its annual conference, held that year in Philadelphia.
After this initial appearance on "The Daily Shoah," Spencer's involvement with other shows in the podcast network grew. While Spencer appeared on 95 episodes of nine different podcasts from 2009–20, his appearances on five of these nine shows coincided with an upswing in street mobilization between 2016 and 2018 by far-right extremists throughout the country. Spencer used many of these appearances to either promote future events or shape the narrative after a high-profile event, such as "Unite the Right" or press conferences.
Some of these discussions brought together other prominent organizers as well. The diagram below shows Spencer's diverse set of co-appearances with dozens of cast members from multiple podcasts over an 11-year period, from 2009 to 2020.
In 2016, Spencer appeared with Andrew Anglin of The Daily Stormer on an episode of "Between Two Lampshades" – a spin-off of "The Daily Shoah," named after the Zach Galifianakis talk show "Between Two Ferns" – to promote a speaking engagement at Texas A&M University. Following the deadly "Unite the Right" rally in 2017, Spencer joined two TRS podcasts to break down what happened in Charlottesville. In an episode posted Aug. 13, 2017, Spencer joined Matthew Gebert, then a State Department official and TRS organizer known in white supremacist circles as "Coach Finstock"; fellow "Unite the Right" organizer Elliott Kline, who used pseudonym "Eli Mosley"; and the rest of usual cast of "The Daily Shoah" to unpack what happened at "Unite the Right." A few weeks later, on Aug. 21, 2017, Spencer joined the "Fash the Nation" podcast, along with "Third Rail" host Norman Asa Garrison III. In the first 10 minutes of the two-hour episode, Spencer and Garrison sought to shift the blame for the violence at "Unite the Right" from the far right to antiracist protesters.
Spencer's extensive cooperation with other prominent alt-right podcasts declined in the aftermath of "Unite the Right." In 2019, he launched "The McSpencer Group," a podcast and talk show. While the show has managed to attract a small number of rotating cast members, Spencer himself has appeared on just two other podcasts in the SPLC's data set between 2019 and 2020, signifying a retrenchment back into his own work and away from other figures in the movement.
The Rise and Fall of 'The Daily Shoah'
Overview
Throughout the Trump era, the white nationalist media network The Right Stuff (TRS) was at the forefront of white nationalist organizing. However, the Southern Poverty Law Center's analysis of cast member appearances on the show reveals that the network has lost much of its momentum.
SPLC analyzed cast member appearances from TRS's flagship podcast, "The Daily Shoah," from the show's inception in 2014 to 2020. It found that the podcast's ability to attract or retain broad spectrum of guests has diminished alongside the collapse of TRS's domain popularity. Between 2014 and 2018, "The Daily Shoah" featured more than 100 different guests from across the far-right movement. However, between January 2018 and March 2020, it featured fewer than 25 new guests. Between 2017 and March 2020, its average monthly domain rank declined from 520,000 to 975,000 out of 1 million sites.
"The Daily Shoah's" trajectory is reflective of an extensive shift within the white power movement away from traditional organizing structures and toward more diffuse systems of decentralized radicalization. Members of "The Daily Shoah" and TRS more broadly were key figures in the "alt-right" – a broad consortium that included an array of digitally savvy far-right organizations and leaders. In the run-up to and the immediate aftermath of Donald Trump's 2016 election as president, alt-right leaders staged dozens of rallies, including the deadly 2017 "Unite the Right" rally in Charlottesville, Virginia. However, the legal and civil consequences of numerous acts of violence at these events, combined with infighting, caused the coalition to collapse in early 2018. Around the same time, TRS's popularity declined precipitously and a new generation of white power activists, ones who eschewed traditional organizing methods in favor of terroristic violence, rose to prominence.
This is part three of the SPLC's report examining 15 years of podcasting data across 18 different shows produced by far-right extremists. Through this analysis, the SPLC aims to document the ways in which podcasts have shaped the far-right movement, encouraged networking among extremists, and fueled the emergence of some of its key leaders.
The History of 'The Daily Shoah'
Mike "Enoch" Peinovich and a cadre of writers from the racist libertarian blog The Right Stuff (TRS) founded "The Daily Shoah" in August 2014. The show debuted roughly two years after Peinovich, a former tech worker who wrote under the pseudonym "Mike Enoch" online, had launched the site in 2012.
"The Daily Shoah" established TRS as a brash, irreverent outlet among the white nationalist blogosphere. The name was an antisemitic riff on Jon Stewart's popular comedy program, "The Daily Show." Its hosts, known as the "Death Panel," used a roundtable format and featured a variety of talking heads. Its hosts included Peinovich and contributors to TRS's website, including Jesse Dunstan (known as "Sven," "Seventh Son," and "Bjorn"), Cooper Ward (as "Ghoul") and Van Bryant II (as "Bulbasaur"). Peinovich, who grew up listening to shock-jock hosts such as Opie and Anthony, injected the radio hosts' same comedic style into "The Daily Shoah," albeit drenched in racism and bigotry.
"The Daily Shoah" runs at least twice per week. Some of its episodes are available for free, while others require a paid monthly subscription. Episodes run between two and three hours, and feature commentary, sophomoric musical numbers and recurring segments mocking Jews and racial minorities.
Owing to its long tenure and prominence, the show has popularized an extensive list of symbols, memes and jokes now used by other far-right communities online. In June 2016, for instance, the Google App store removed an extension for the Chrome web browser, called the Coincidence Detector, from its site. The app added triple parentheses, known as (((echoes))), on any website around names that were pulled from a user-generated list of Jewish last names. The meme was meant to be a visual representation of a sound effect featured in "The Daily Shoah," where hosts would add an echo sound effect while referring to Jews.
TRS's Evolution from Book-Burning Racist Tastemakers to Burned Out
Although the "The Daily Shoah" and other shows on the TRS network were places for far-right extremists to "see and be seen" well into the first half of the Trump administration, the network's popularity has suffered as a result of infighting, legal action and changing dynamics within the white power movement. As subsequent sections will show, both "The Daily Shoah's" ability to attract new guests and the popularity of the TRS network have suffered as a result of the collapse of the alt-right in early 2018.
The alt-right, short for "alternative right," was responsible for much of the far right's on-the-ground activity in 2016 and 2017, including "Unite the Right." However, these acts of mass mobilization came with a cost. Following a slew of rallies and university speaking events in Michigan, Florida, Tennessee and elsewhere in late 2017 and early 2018, the coalition began to fracture. The movement was split between dueling wings, with one side prioritizing street action, while the other worried that high-profile confrontations between its members and antifascist activists would damage the movement's image. In the case of TRS, these issues came to a head in March 2018, when "The Daily Shoah" host Jesse Dunstan announced he intended to remove podcasts from the Traditionalist Worker Party, after several of its members and leaders were reportedly involved in a series of street brawls outside of an alt-right event at Michigan State University.
Even before the post-"Unite the Right" fallout, TRS had started to take a darker turn, in part due to longtime Daily Stormer contributor Joseph Jordan's (aka "Eric Striker") growing involvement with the network. In mid-2017, Peinovich hosted a Nazi-style book-burning ritual, where he, Jordan and others threw up Hitler salutes, according to leaked footage later published by Hatewatch. One former member described the atmosphere around such events to Hatewatch as that of "a cult." TRS's association with white nationalist shock jock Christopher Cantwell contributed to further rifts between TRS hosts and other white nationalist organizers. On Sept. 14, 2019, Daily Stormer editor Andrew Anglin wrote in an article for his website that he had stopped sharing TRS podcasts in fall 2018, due to the network's association with Cantwell. Cantwell, one of the organizers of "Unite the Right," came under fire from some in the white power movement in spring 2018, after he told Daily Stormer webmaster Andrew "weev" Auernheimer that he had chosen to cooperate with police and federal officials.
"I have always liked Mike Enoch [Peinovich]. I think he is a borderline genius. There was a time when I wished he would have been the spokesman of a pro-white movement," Anglin wrote in a June 1, 2019, blog post. "But this is the path he's chosen. He's chosen to betray the trust of the people, to give his approval to known, proven and self-admitted fed snitch."
The Right Stuff's own efforts to engage in real-life outreach and recruitment also were crumbling, as its nationwide network of in-person meetup groups, known as "pool parties," dried up around 2019.
There Is No Political [Podcasting] Solution
TRS's decline is emblematic of wider trends within the white power movement away from traditional organizing and propaganda structures and toward more diffuse, decentralized systems of radicalization.
Following the intense scrutiny from media after "Unite the Right" and the collapse of the "alt-right" coalition in early 2018, many in the white power movement began to question whether participation in politics and mass mobilization were outdated. Groups such as the Atomwaffen Division promoted an alternative known as white supremacist accelerationism, wherein terroristic violence is deemed the sole means of ushering in a whites-only fascist society. Eventually, a growing subset decided that even self-styled accelerationist groups such as Atomwaffen and The Base, another white power organization, were too institutionalized.
While Peinovich and his co-hosts on "The Daily Shoah" dismissed the promise of public events altogether by spring 2018, calling rallies "directly counterproductive," he and others within TRS's inner circle distanced themselves from the accelerationists.
However, these efforts caused uproar among other members of the white power community, including lesser-known TRS hosts. In 2019, TRS prevented a host by the name of "Larry Ridgeway" from hosting guests such as Andrew Richard Casarez, a proponent of white supremacist terrorism who went by the name "Vic Mackey" online. Casarez's supporters dubbed themselves the "Bowl Patrol," referring to the white supremacist mass murderer Dylann Roof's "bowl cut" hairstyle. In one of "Ridgeway's" podcasts aired in September 2019, after he was booted from the network, he and his fellow hosts accused TRS of failing to stand up for white supremacist mass murderers out of fear of losing access to their online payment processor.
Tracking Cast Members on 'The Daily Shoah'
Between 2014 to 2018, "The Daily Shoah" show featured numerous prominent white supremacist leaders as guests. Guests on the podcast used the platform to interact with one another and inject new ideas into a growing ecosystem of far-right extremists online. However, the SPLC's data reveals that this once-central propaganda hub's average monthly cast count has declined 50% since 2018.
The count of new cast members – meaning those who have not appeared on the show before – is even more striking. The bar graph below shows a count of the new cast members who appeared on "The Daily Shoah" each month from August 2014 through March 2020. In its early years, the show attracted an average of between three and six new cast members per month. However, after the alt-right collapsed in spring 2018, cast appearances became increasingly sparse and infrequent. From April 2018 to February 2020, "The Daily Shoah" featured no more than one or two new cast members per month, even though TRS has continued to publish multiple episodes per week.
The drop in the number of guests on the show is not limited to new cast members. In fact, returning guests have largely disappeared as well. The plot below shows each "Daily Shoah" cast member and their appearances over time. Cast members are numbered on the vertical axis in order of their first appearance on the show (line 1 is Peinovich, line 2 is Dunstan, and so on), and each of their episode appearances is shown as a dot. The original hosts, located at the bottom of the y-axis, have the most dots, indicating that they have appeared on the largest number of episodes. Thus, while the original hosts of "The Daily Shoah" have remained frequent, stable presences on the show, the majority of guests have not.
This decline in guests means that even as the movement has become more diffuse and less personality-driven, "The Daily Shoah" has become more reliant on its three remaining hosts — Peinovich, Dunstan and Alex McNabb. The show's role in the movement has changed dramatically as well. While it was once a hub for crucial information for white power activists about on-the-ground rallies and discussions of strategy, today's episodes are largely limited to analyzing the news from a white nationalist perspective and miscellaneous griping about the state of the movement.
The Decline of 'The Daily Shoah' Parallels TRS's Domain Popularity
Peinovich trumpeted TRS's listenership in early 2018, claiming that his audience "is always growing … [and has] never declined." However, data reviewed by the SPLC reveals that TRS's domain popularity has declined 87.5% since 2017. This general drop in traffic to TRS's website coincided with the decline in the number of cast members appearing on "The Daily Shoah."
The SPLC analyzed TRS's web domain ranking using historical data from the Cisco Umbrella domain popularity list, which tracks the top 1 million domains each day through passive DNS usage. DNS, or "domain name system," refers to a protocol that allows computers to translate human-readable domain names, like splcenter.org, to IP addresses, so browsers can find internet resources. While Cisco Umbrella's data only goes back to January 2017, that year marked a watershed moment for far-right organizers. As an August 2020 report from the SPLC noted, of the 125 rallies, marches and protests organized by far-right extremists, 74 of these events occurred in 2017 alone. Several hosts from the TRS network, including Peinovich himself, were instrumental in planning, promoting or executing these events. These include, but are not limited to, "Unite the Right" and Spencer's college tour, as well as a handful of smaller rallies.
The graph below shows "The Daily Shoah's" declining total cast count (red) and the concurrent declining web site rank (blue).
Traffic to the TRS website peaked in spring 2017, after Trump's inauguration. There was another small increase during August 2017 in the run-up to and aftermath of "Unite the Right" rally, though traffic was on the decline the rest of the year. These changes in early 2017 do not necessarily correlate to a lack of on-the-ground activity, however. The decline in site rank could have been a result of TRS's own efforts to monetize the network. In July 2017, roughly a month before "Unite the Right," the site introduced a paywall structure, limiting access to some of its multimedia offerings to paid subscribers only. As a result, the domain, which at its height was ranked as high as 179,468 out of 1 million domains, has only cracked the top 500,000 domains once since 2017, in March 2018.
Peinovich lent credence to these findings in a February 2019 court filing from the civil case against "Unite the Right" organizers. (Peinovich has since been dropped from the lawsuit. He did not respond to SPLC's requests for comment on the matter.) Blaming the court's effort to subpoena data regarding TRS's web traffic, TRS had "lost regular listeners," he claimed, and many users had "cancelled their accounts and stopped visiting the site."
By then, TRS's domain rankings had dropped to a monthly average of over 900,000 out of 1 million. Meanwhile, "The Daily Shoah" welcomed only 13 different individuals as guests on the show throughout 2019. Neither "The Daily Shoah," nor the number of visitors to TRS's domain, have recovered to their pre-"Unite the Right" popularity.
Other Extremis Podcasts Have Failed to Attract New Cast Members
"The Daily Shoah" is far from the only far-right podcast that has failed to attract new cast members over time. Indeed, by comparing "The Daily Shoah's" cast with the other 17 podcasts in the data set, the SPLC found that the average number of unique cast members per episode is mostly inversely proportionate to the total number of podcast episodes of any given show.
The data shows that even though podcasts with high episode counts, such as "The Political Cesspool" or "The Daily Shoah," have a higher total cast member count (3,409 and 1,609 respectively, during the period analyzed by the SPLC), these shows have a low number of cast members per episode (2.69 and 2.68). The number of unique cast members – meaning cast members who had not appeared on other episodes of that podcast – was low as well. A little less than one out of three episodes of "The Political Cesspool," for instance, featured a new cast member. Meanwhile, one in five episodes of "The Daily Shoah" featured a new guest.
These findings demonstrate that "The Daily Shoah's" inability to attract fresh faces is symptomatic to far-right podcasts as a medium. Hosts, producers and guests alike face both public scrutiny and social pressure for their involvement in the production of hate material. Some may try to protect themselves by using pseudonyms, although few are able to keep their online personas and real-life identities separate for an extended period. Likewise, extremists have struggled to find stable platforms to distribute and finance their activities. Like other forms of extremist propaganda, many of the podcasts in this data set, including "The Daily Shoah," have been deplatformed from many mainstream social media sites and podcast distribution platforms. (Here, "deplatforming" refers to the action of tech companies stopping a person or group, typically those who give voice to an extreme ideology, from using their websites.) Even though the TRS network hosts its content on its own site, these popular platforms are crucial to developing an audience beyond a more tightly knit network of dedicated extremists.
Far-Right Podcasting, Past and Present
Overview
Far-right extremists' efforts to cultivate a wide network of content creators reveal how long-standing trends in the movement's embrace of audio propaganda are bound up with the current reliance on a growing number of multimedia platforms.
Since the advent of home radio, far-right extremists have used audio broadcasts to communicate with supporters and inspire on-the-ground organizers to carry out rallies or even attacks. While the technologies favored by far-right extremists have changed considerably through the years, these broadcasts continue to play a no less crucial role in the movement, particularly in connection to cultivating real-world activity. While scholars have paid some attention to far-right podcasts and internet-available audio recordings before them, the networks these mediums have inspired extremists to build are critical to an understanding of the movement's past, present and future.
This is part four of the Southern Poverty Law Center's report examining 15 years of podcasting data across 18 different shows produced by far-right extremists. While the ideology and style of these shows varied considerably, SPLC's analysis revealed that this network was crucial in terms of bolstering a cadre of prominent far-right activists, many of whom were critical to the explosion of on-the-ground activity the SPLC and others observed during the Trump era.
The Far-Right's Long History Creative Audio Propaganda
The use of audio media to transmit hateful ideas is not a new phenomenon. In fact, the use of radio technology to spread hate has roots in extremist movements both in the United States and abroad.
In Nazi Germany, radio was not to be solely an instrument for conveying information, but a force for indoctrination. Joseph Goebbels, just after his 1933 appointment as the Reich Minister of Propaganda, called radio "the chief and major mediator between the Movement and the Nation, between Idea and Man." He added, "What the press was to the nineteenth century, radio will be to the twentieth." By 1936, Goebbels bragged that his ministry had "transformed the radio into the sharpest of propaganda weapons … a tool for ideological education and top-class political force."
Meanwhile, Charles Edward Coughlin, a Catholic priest known for his staunch antisemitic and anti-socialist views, dominated hate radio in the United States during the 1920s and 1930s. His show, "Golden Hour of the Shrine of the Little Flower," blended populist diatribes with overt antisemitic rhetoric. In 1938, Coughlin defended Kristallnacht, a series of Nazi-led pogroms against Germany's Jewish population, claiming it was retaliation against Jews for their supposed persecution of Christians. In the biography "Radio Priest: Charles Coughlin, The Father of Hate Radio," author Donald Warren compares Coughlin's level of fame to that of movie stars of the day. At the height of Coughlin's popularity in the 1930s, between 40 and 60% of U.S. households owned a radio, with Coughlin at one point commanding nearly 90 million weekly listeners. Coughlin's broadcasts inspired the formation of dozens of far-right groups. Among these were the New York City-based Christian Front, whose members participated in rallies organized by the pro-Nazi German American Bund; harassed and attacked New York City Jews; led protests of Jewish-owned businesses; and generally translated Coughlin's message of hate into action. In January of 1940, police arrested over a dozen men, including some Front members, on allegations that they had conspired to overthrow the U.S. government.
Some scholars have drawn comparisons between Coughlin's dramatic, bombastic, fear-mongering style and the on-air personalities of later right-wing talk radio celebrities such as Rush Limbaugh. Like Coughlin, Limbaugh inculcated his listeners with an ultra-conservative worldview through his use of specialized language ("dittoheads," "feminazis," "Gorbasm") and even a redefinition of common ideas such as "racism" or "diversity" to better reflect right-wing grievances.
The 1980s and 1990s were also the heyday of "shock jock" and "hot talk" radio formats. These formats encouraged hosts to offend their audiences and push boundaries, though they were not necessarily always political. Popular "shock jocks" — including Howard Stern, Don Imus and the duo Opie and Anthony — took calls from fans, hosted in-studio guests, wrote and performed parody bits, engaged returning casts of characters, and staged contests, pranks, and outlandish stunts in order to retain their mostly male audiences.
Inspired by the success of conservative talk radio and hot talk formats, far-right, anti-government extremists, racists and antisemites were eager to try their hand at radio. However, the advertising and funding requirements of traditional radio stations largely blocked them from the commercial airwaves. Instead, these groups turned to alternative media for novel ways of communicating their message. In the early 1980s, Klansman and Aryan Nations affiliate Louis Beam set up an early computer bulletin board system (BBS) — a predecessor to modern online forums. Beam also broadcast his "Jubilee Radio" program on short-wave radio bands.
Extremists who once embraced short-wave radio and other forms of alternative broadcasting easily made the switch to internet technology in the 1990s. In 1997, David Duke, founder of the Knights of the Ku Klux Klan and its youngest ever Grand Wizard (later sanitized to "National Director"), began hosting downloadable recordings of "The David Duke International Internet Radio Show" on his website, The David Duke Report. Duke's friend and longtime associate Don Black launched Stormfront, a website and discussion forum for white supremacists of all stripes in 1995. Black began posting an array of audio and video files on Stormfront. By mid-2004, the proprietors had begun a series of Stormfront-branded internet radio shows such as "Stormfront Town Hall with David Duke" and later "Stormfront Action Radio."
Into the Modern Age
In the mid-2000s, with the introduction of the iPod personal music player and the RSS ("really simple syndication") system, pre-recorded audio programs, known as "podcasts," could be regularly downloaded and played by the user at their convenience. Today, 37% of Americans listen to at least one podcast per month, and the average age of listeners is 34, compared to 47 for broadcast radio and 57 for network television viewers.
Modern white supremacist podcasters appeal to this younger audience by modeling their shows after the popular "shock jock" programs of the 1990s while promoting the age-old hate spewed by Duke. The contemporary hate podcast landscape is quick to evolve and change as new formats, new platforms, and new financial incentives are introduced into the marketplace.
From Audio to Video
"Killstream" and "White Rabbit Radio" exemplify the current trend toward producing live-streamed audiovisual content rather than pre-recorded, audio-only podcasts. Even long-running audio-only shows such as "The Daily Shoah" began recording video content (albeit only available to paid subscribers) in late fall of 2017.
Video streams can be watched live like a traditional radio or television (if there is a video component) broadcast, or they can be replayed later at the user's convenience, like a podcast. In addition to offering a visual component, many video streaming platforms such as YouTube, Twitch and DLive have also added a live chat feature in which audience members can interact with each other and the performer or performers. Some video streaming sites offer the option to attach a monetary "tip" to a chat comment which provides for an additional level of interaction between the show host and the audience members.
There have been a few studies of these far right-wing celebrity networks. In Rebecca Lewis' study of far-right content creators on YouTube, she documents the connections between 65 YouTube streamers. Lewis posits that these creators established an "alternative influence" propaganda network that uses celebrity branding techniques to deliver political propaganda. In a 2020 paper, Manoel Horta Ribiero, et al. also looked at far right YouTube channels in their work on radicalization pathways, focusing on how the network of commenters interacts with the content and how they are impacted by recommendation algorithms.
Audience Interaction
Modern podcasts and video shows differ in their encouragement of and response to audience participation. Many shows maintain Twitter timelines, Facebook pages and groups for fans, and some also have Telegram channels for discussion. Others engage listeners more directly. The Right Stuff network engages listeners through its forum that is accessible only to paid subscribers, as well as through a comment section below each show on its website. Some hosts, such as those from "The Daily Shoah," occasionally read listener comments or emails during the show. Others make a point of announcing when they receive a donation through email or during a livestream.
The hosts of "The Political Cesspool" take telephone calls and invite users who are in the chat to call and ask questions or even participate as a recurring "friend of the show." For example, a regular caller known only as "Courtney from Alabama" has been featured on "The Political Cesspool" 12 times between 2013 and 2020.
Paywalls and Subscriptions
In order to serve as effective propaganda, extremist podcasts aim to reach the widest possible audience. As a result, they are typically free on a variety of platforms. However, some far-right influencers have also been successful in using podcasts as a source of income. They may do so by generating third-party advertising revenue, by serving as vehicles for hosts to solicit paid donations, or by providing upgraded content to paid subscribers (a "paywall"). Many podcasters in this space – including "The Daily Shoah" – use a hybrid model where they distribute free and subscribers-only content.
Podcasts and video streams have proved to be fruitful for soliciting donations as well. As Hatewatch reported last year, antisemitic white nationalist Fuentes was one of the top earners on the DLive platform, cashing out over $10,000 per month in user donations in return for providing livestreams five nights a week.
Platform Availability
Because of the offensive, racist content in these shows, general access podcast-syndication and streaming platforms occasionally remove an individual host or an entire show's personal or branded account and all its content for violating their terms of service. When this happens, the banned individual or show may switch platforms or may attempt to re-brand themselves to stay on the same platform. Fans or affiliated accounts may also re-post individual show episodes back onto the original platform, sometimes altering the show metadata ­– data that gives information about a show's creator or other details platforms can use to justify removing content – to avoid being banned themselves.
The frequent reposting and platform-switching means tracking podcasts and video streams over time becomes more challenging. For example, even if the metadata for a podcast is still available on the original syndication platform (e.g., Podbean, Spreaker, Zencast), the recording itself will most likely be missing. Data is more consistently available for some shows that self-host (e.g., "The Political Cesspool" and "The Daily Shoah"), but show owners can still choose to self-censor episodes, remove episodes entirely or place them behind a paywall at any time.
The ease through with extremists will be able to find platforms that incorporate these technologies may change over time, in large part due to these figures limited access to certain mainstream platforms. Just as they faced backlash in the 1980s, the extremist audio and video broadcasters of today are once again facing increasing scrutiny for their role in enabling violence and spreading hate. Hatewatch anticipates that the next wave of decentralized technologies – cryptocurrencies, the distributed web – will likewise be pressed into service just as shortwave radio and the Internet were in years past.
---
Originally published by the Southern Poverty Law Center (SPLC), 09.29.2.2021, republished for educational, non-commercial purposes.